Other products
Forge-welded gratings - SP
Pressure-locked gratings - P
Perforated metal planks - B
GRP gratings
Stair treads
Spiral staircases
Other products
»
Flame-retarding coverings
Do you have a question about products?
Write to us
Or call us
+420 596 496 511
obchod@lichtgitter.cz
Ask a question
BP-H
Sheets sections BP-H are good for the covering of transformer basins; it is comprised of a weld-on wire grid filled with glass foam granulate. In the case of a fire, this granulate prevents it from propagating to the catch basin under the transformer and at the same time it prevents access of air into the basin.
The basic properties of glass foam granulate:
incombustibility
environmentally friendly
chemical resistance
weather resistance
insignificant fill weight
long life and thus stable values
Sheet section BP-H

material
steel, hot-dip galvanized
length L
up to approx. 2500 mm
sheet thickness
2 mm
module R
preferably n x 125 mm
width B
150, 200, 300 mm
height H
75 mm
edge folding T
approx. 10 mm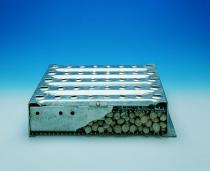 Easy designing rules for covering transformer basins with extinguishing sections BP-H
Sections BP-H only need to be supported on two sides, at their ends. However, we recommend that the bearing for PB-H sections be along the entire circumference of the basin due to better sealing of the sump. Clearances must be taken into account when designing the width of mounting of BP-H sections.

The clearance between the section and the basin wall in the bearing direction should be at least 15 mm on each side, in the non-bearing direction then approx. 10 mm on each metre of width. However, the amount of clearances depends on the size of the sump and the chosen composition of sections and their lengths.

As to the widths of sections, it is suitable to lay all the area while using standard widths of 150, 200 and 300 mm and to divide gaps, if any, among individual sections. As to the length of sections, when designing a new transformer basin it is recommended to take as the basis the multiple of raster, which is 125 mm (this is the cheapest variant). In the case of a finished sump or at reconstruction, it is possible to add or deduct 1/4 to 1/2 of raster to/from the multiple (a less advantageous variant with additional costs). It is possible to make also atypical lengths and widths, but the price increases and the time of delivery extends.

The maximum manufacture length of sections BP-H is approx. 3000 mm. However, when loaded by walking, the clearance of supports must not exceed 2000 mm, see the load capacity table.