Homepage
/
Spiral staircases
Spiral staircases are used as auxiliary staircases, the advantage of which is a small ground area. Staircases are supplied as a modular system.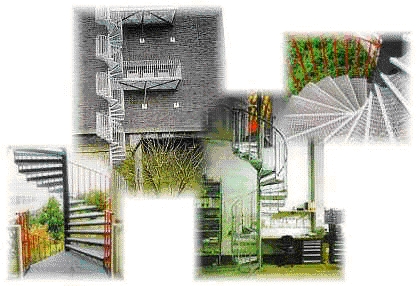 Lichtgitter's range includes staircases of two types:
Both types are are characterized by an easy installation which is performed according to the supplied technical documentation.
The staircase is dimensioned to a surface load of 3.5 kN/m2 or individual load 1.5 kN concentrated into the load area of 100x100 mm located at the walkway edge, 100 mm from the outside edge of the stair tread.
Staircase structural material:
Staircase surface finish:
galvanizing acc. to CSN EN ISO 1461
Data specification for spiral staircases
Staircase type(D)
"LG Standard"
"LG Special"
Staircase diameter (D)
.... mm
 
Total height of staircase (H)
.... mm
 
Rise (s)
.... mm
 
Riling height (Hz)
.... mm
 
Number of stair treads
 
.... pcs
Landing size
.... mm
.... pcs
Half-landing size
.... mm
.... pcs
Gross height – finished floor (B)
.... mm
 
Grating type
....
 

Forge-welded gratings, pressure-locked gratings, stair treads, perforated metal planks, spiral staircases, GRP gratings and ladder rungs. Various material variants (steel, stainless steel, aluminium) with various surface finishes.
News
Lichtgitter CZ spol. s r.o.
U Lékárny 1
735 35 Horní Suchá

+420 596 496 511

obchod@lichtgitter.cz
Write to us